Medical Research Consulting
Statistical and Design Consulting Service
Dr. Roger L. Brown
1412 Willow Trail
Middleton, WI 53562
Office: 608-238-1009
email: rlbrown3@facstaff.wisc.edu
pager 24 hour email: 6086570762@archwireless.net
pager: 608-657-0762
Fax: 608-263-5310
STATISTICAL AND DATA ANALYSIS SERVICES
Statistical and data analysis
Mathematical model building
Consulting on research designs
Analysis, consulting and manuscript preparation over the internet.
Consulting on the newest and most popular models (e.g., structural equation modeling, hieharchical linear modeling, mixed growth models, etc.)
Work with the latest dynamic and multidimensional graphics
Computer simulation studies
Program evaluation
Exact Statistical Modeling
Biostatistical consulting
Data mining approaches
Mathematical exploration of data using artificial intelligence
---
Endorsements
"I highly recommend Dr. Brown as a consultant for biomedical researchers. He has considerable expertise in the areas of study design and statistical analysis, expecially in the area of practice based research, and is very responsive to the priorities and goals of the investigator." Dr. David Katz, Assistant Professor of Medicine, University of Wisconsin Medical School.
"Dr. Brown has enormous expertise and skill in the appropriateness and use of the most current analytical methods, and a wealth of experience in working in the areas of health and mental health services research." Professor Mary Ann Test, School of Social Work, University of Wisconsin-Madison.
"Dr. Brown is an unusual blend of the highly academic and the eminently practical. He is on the cutting edge of statistical theory and practice, yet able to provide extremely useful guidance on the mundane details that can make or break projects." Dr. Richard Brown, Associate Professor, Department of Family Medicine, University of Wisconsin Medical School.
"I have worked closely with Dr. Brown in grant writing, research, statistical analysis and teaching for over 6 years. He is considered a national expert in statistics and has been a large part of my research team's success." Dr. Partick McBride, Director of Preventive Cardiology, University of Wisconsin-Madison Medical School.
"Dr. Brown is a highly respected and nationally know for being at the forefront in the development and application of cutting edge statistical techniques. I owe my success in securing funding of two NIMH proposals to the excellent consultation and assistance Dr. Brown provided in helping formulate the study design and statistical analyses." Associate Professor Jan Greenberg, School of Social Work, University of Wisconsin.
"Dr. Brown's assistance in developing power analyses and statistical models for several major research grant applications has been invaluable. His work has been highly praised in peer reviews of our proposals, and has been instrumental in our obtaining funding. During the actual conduct of the projects, he is able to convey complex statistical concepts in an understandable manner and assist project staff in making difficult design, analysis and interpretation decisions. I highly recommend his services." Dr. D. Paul Moberg, Director and Senior Scientist, University of Wisconsin Center for Health Policy and Program Evaluation.
For more endorsements, please contact Medical Research Consulting.


Experience
Professor of Research Methods and Statistics
University of Wisconsin - Schools of Medicine and Nursing
25 years as a statistical and design consultant



CLICK HERE to view HIPAA Related Information


For information about rates
Please contact Dr. Brown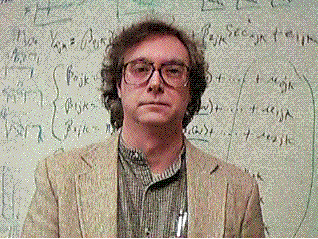 For more information, please email Dr. Brown at: rlbrown3@facstaff.wisc.edu


Client Services
NOTE: This site uses Adobe Acrobat Version 5.0 PDF files
MRC NOW HAS A REALTIME ONLINE CONFERENCING SYSTEM TO BETTER HELP CONSULTING COMMUNICATIONS. THIS SYSTEM WAS REQUESTED BY OUR OVERSEAS CLIENTS, BUT MAY BE USED BY ANY MRC CLIENT.
To be able to use the conferencing system, you must first contact MRC and request a username and password. To setup a realtime conference with Dr. Brown you must email him prior to the conference to establish a date and time to be online. To access the MRC online conferencing system, click below.
Live Picture of Lake Mendota and the west end of the UW-Madison
Live Picture from UW-Madison Campus Engineering


Project Files/Output (Secure AREA)


Online Statistical Routines